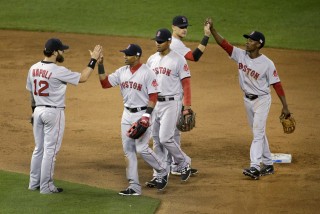 KANSAS CITY, Mo. — The Boston Red Sox did a better job of walking a tightrope than the Kansas City Royals.
At least, that's how manager John Farrell summed up Thursday night's 6-3 victory.
The last-place Red Sox took advantage of three critical errors by the first-place Royals, and managed to deal with their own costly miscue to end a frustrating four-game losing streak.
Clay Buchholz (8-8) allowed three runs, two earned, over 6 1/3 innings for the Red Sox. He turned a one-run lead over to the Boston bullpen, and it preserved his sixth straight win against the Royals. Edward Mujica handled a perfect ninth for his fifth save.
Kansas City's advantage in the AL Central dropped to a half-game over idle Detroit.
Liam Hendriks (1-2) failed to last three innings while making a spot start for left-hander Danny Duffy, who is shelved with shoulder soreness. The Royals' defense didn't do Hendriks any favors, either, making all three errors in the first four frames.
Kansas City pieced together a promising rally in the sixth. Josh Willingham was hit by a pitch leading off, and Mike Moustakas and Cain hit back-to-back two-out singles to make it 4-3. But Buchholz bounced back to strike out Escobar and preserve the lead.
Jemile Weeks added a two-run double in the eighth to give Boston a cushion.