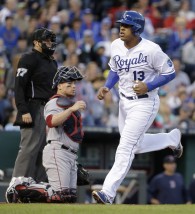 KANSAS CITY, MO. (AP) Jeremy Guthrie retired the final 17 batters he faced, Omar Infante had three hits and drove in two runs, and the Kansas City Royals beat the Boston Red Sox 7-1 on Saturday night.
Manager Ned Yost overhauled his batting order and got immediate results. The Royals scored seven runs for the first time since Aug. 19, a span of 22 games.
Nori Aoki, batting second for the first time this season, and Alex Gordon, who snapped an 0-for-22 skid, each had two hits, scored a run and drove in a run.
Infante, who usually bats second, was dropped to seventh and responded with three singles, including an eighth inning single that scored Lorenzo Cain. He also drove in a run in the third with a fielder's choice.
Guthrie (11-11), who was roughed up for eight runs on 10 hits in 2 2/3 innings in a loss Monday at Detroit, allowed three hits and one unearned run in eight innings.
With the victory, the Royals assure themselves of back-to-back non-losing seasons for the first time since 1993 and 1994.