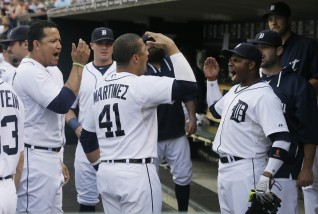 DETROIT — Max Scherzer figured he had squandered another lead when Alex Gordon's fifth-inning drive sailed down the line in right field.
After that reprieve, Scherzer walked Gordon and retired the next two batters to escape a bases-loaded jam, and the Detroit Tigers went on to beat Kansas City 4-2 on Tuesday night to pull within percentage points of the Royals atop the AL Central.
Rajai Davis and J.D. Martinez homered for the Tigers, who can sweep the three-game series with a win Wednesday night.
Scherzer (16-5) allowed a run and seven hits in 6 2/3 innings. Kansas City was down 3-1 in the fifth when Gordon's deep fly to right went just foul with two on. Gordon walked to load the bases with one out, but Salvador Perez lined out and Eric Hosmer struck out.
Joe Nathan worked out of another jam in the ninth to earn his 30th save in 36 chances. He allowed two infield singles to start the inning before closing out the game with two strikeouts sandwiched around a picked-off runner.
Pinch-runner Jarrod Dyson was the man who was picked off second.
The Tigers are trying for their fourth straight AL Central title, and the hallmark of this run has been their ability to beat their closest competitors in the division head to head. Last year, Detroit went 15-4 against Cleveland and finished one game ahead of the Indians.
The Tigers are 11-4 against the Royals this year, and the race is now in a virtual tie. Detroit has one more win and one more loss than Kansas City — and the Royals still have to finish a suspended game in which they trail Cleveland 4-2 in the 10th.