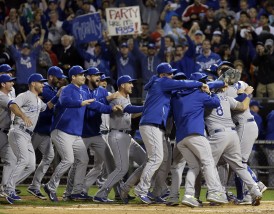 CHICAGO (AP) — The mob arrived as soon as Salvador Perez squeezed that final foul popup, officially bringing Kansas City's playoff drought to an end.
Yes, the Royals are going back to the postseason.
Kansas City clinched a playoff spot Friday night for the first time in 29 years, beating the Chicago White Sox 3-1 behind seven scoreless innings from Jeremy Guthrie.
The Royals ended the longest active postseason drought in the four top North American leagues, and they did so with a unique offensive profile. Story
Kansas City secured at least a wild card spot and ended the longest active postseason drought among the major North American sports leagues. The last time the Royals made it to the playoffs, George Brett led Kansas City to a World Series victory over St. Louis in 1985.
"It feels better than expected," said Billy Butler, a 2004 draft pick and eight-year veteran. "It's a great thing. I'm proud to bring this organization something they envisioned when they drafted me."
Small-market Kansas City endured more than its share of losing in recent years. But it contended into September last season and kicked down the playoff door on Friday.
The Royals crowded around Perez near the plate after he caught Michael Taylor's foulout.
A large contingent of Kansas City fans crowded near the visitors dugout, watching the party, and players tossed black and white playoff caps to them before walking off the field.
The clubhouse was as chaotic as expected, with players dousing each other with bubbly and snapping pictures, whooping it up as the franchise's years of losing gave way to pure joy.
As the scene unfolded, Brett stood nearby with a bottle in one hand and a cup in the other, doing his best not to get drenched.
"I got tired of the people criticizing the players on this team because they hadn't won a World Series since 1985," he said. "Ninety-five percent of these … guys weren't even born in '85. It's not their fault. These guys played their [butts]off all year."
With Detroit losing to Minnesota, Kansas City trails the Tigers by a game in the AL Central with two to play. If they are tied after Sunday, the teams will play game No. 163 at Detroit on Monday to determine the division winner.
Kansas City also maintained a one-game lead in the wild-card standings over Oakland, which won 6-2 at Texas.
The postgame celebration eventually returned to the field, where there was more spraying alcohol, more jumping up and down and more pictures, all to the delight of their supporters. Fans chanted "Let's go Royals!" and some derogatory comments toward Detroit.
They held up signs that read "My playoff beard starts growing today," and "Finally."
That probably summed it up best for Kansas City. Yes, finally, the Royals are back.
"We know it's been emotional, not only for us but for the city itself, which has supported us all along the way," closer Greg Holland said.
Guthrie (13-11) could not have been much better, pitching four-hit ball while winning his third straight start.
The White Sox scored in the eighth against Wade Davis. Adam Eaton tripled with one out and came around on Alexei Ramirez's single. But Jose Abreu and Conor Gillaspie struck out to end the inning.
Holland worked the ninth for his 46th save in 48 chances.
Alcides Escobar had two hits, including a leadoff single in Kansas City's three-run first against Hector Noesi, and the Royals won for the fifth time in six games.
Noesi (8-12) allowed six hits in six innings after it looked as if he might get knocked out early.
The first three batters each got a hit, starting with Escobar's single. Nori AokiNori Aoki lined a run-scoring triple to right, and Lorenzo Cain had an RBI single for his 14th hit in 30 at-bats. Cain came around from second on Butler's one-out single to make it 3-0.
Chicago's Paul Konerko began his farewell weekend by going 0-for-4. The retiring slugger, back in the lineup after sitting out Thursday's game, received loud cheers every time he stepped to the plate, starting with a standing ovation in the second inning.
In the Royals, Konerko sees some similarities to Chicago's 2005 championship team, with its pitching and timely hitting.
"I think they have a real good shot to go a long ways," he said. "Good for them. Enjoy it. I'm happy for those guys."