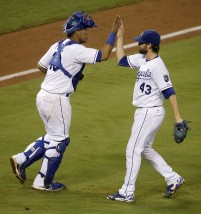 Even though the Cleveland Indians had a golden opportunity to help the Royals extend their lead in the AL Central, KC was able to stay in first place with a 2-1 win over the Texas Rangers on Tuesday night.
The Indians held a 2-1 lead in the top of the ninth but J.D. Martinez connected on a three run home run to give the Tigers a game winner. With the outcome, KC still holds a half game lead on Detroit (76-62) in the AL Central.
Kansas City (76-61) got on the board first in the third inning when Alcides Escobar scored on a Nori Aoki double to left field. The Indians were able to tie the game in the fifth inning on an RBI groundout by Daniel Robertson.
The Royals took the lead for good in the eighth inning off the bat of Salvador Perez that allowed Jarrod Dyson to score.
Aaron Crow picked up his third save of the season by closing out the ninth inning. Jeremy Guthrie picked up a no decision in a stellar outing, allowing one run on eight hits through seven innings of work.
Jason Vargas will go for the Royals on Wednesday night in the finale of the series against the Texas Rangers. First pitch is at 7:10 p.m. CT from Kauffman Stadium. KMAN will have the broadcast from the Royals Radio Network.