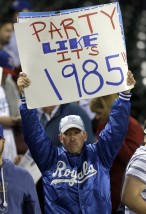 CHICAGO — Whether it's through a wild card or the AL Central title, Lorenzo Cain doesn't care how the Kansas City Royals reach the playoffs.
He just wants to get there.
Eric Hosmer homered and drove in two runs, Cain had four hits and scored twice, and the Royals put themselves on the verge of a playoff spot with a 6-3 victory over the Chicago White Sox on Thursday night.
One more win for Kansas City, or a loss by Seattle, will send the Royals to the postseason for the first time since George Brett led them to a World Series championship in 1985.
Kansas City remained two games behind Detroit in the Central and moved one up on Oakland in the wild-card standings.
Hosmer had three hits, including an RBI single in the first and a tying solo homer off Jose Quintana in the sixth.
Wade Davis pitched the eighth and Greg Holland worked the ninth for his 45th save in 47 chances.
Shields allowed three runs and five hits, including a two-run homer by Josh Phegley.
Quintana (9-11) gave up five runs and 11 hits over 7 1/3 innings.