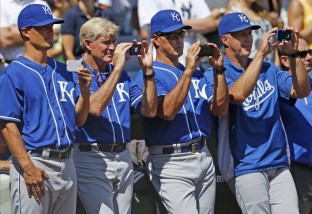 NEW YORK (AP)– Yordano Ventura and the Kansas City Royals turned Derek Jeter Day into another disappointing defeat for the New York Yankees' captain in the dwindling days of his career.
Ventura pitched three-hit ball into the seventh inning, and the AL Central leaders beat the Yankees 2-0 Sunday on a pair of unearned runs for their second shutout in the three-game series.
Kansas City scored due to errors by pitcher Shane Greene (4-3) in the second inning and right fielder Carlos Beltran in the third. The Royals, who won 1-0 Friday night on an unearned run following an error by third baseman Chase Headley, went 4-3 against the Yankees this year to take the season series for the first time since 1999.
Ventura (12-9) won his third straight start, leaving after a leadoff walk in the seventh. With closer Greg Holland sidelined by a strained right triceps, Aaron Crow, Kelvin Herrera and Wade Davis combined for one-hit relief.
Pitching on his 29th birthday, Davis got his second save of the series — and his big league career. After Beltran singled over first leading off the ninth, Davis struck out Brian McCann on a 3-2 pitch, retired Mark Teixeira on a soft grounder to third and fanned Stephen Drew on another full-count pitch.
Davis has 94 strikeouts in 63 1/3 innings this season and has allowed one run in 53 innings dating to late April. That run scored when he hit the Los Angeles Dodgers' A.J. Ellis with a bases-loaded pitch on June 25.
Trying for its first playoff berth since winning the 1985 World Series, Kansas City increased its AL Central lead to 2 1/2 games over second-place Detroit, which hosted San Francisco on Sunday night.
New York has 21 games left and is in danger of missing consecutive postseasons for the first time since 1992 and `93. The Yankees began the day 4 1/2 games back for the second AL wild card.
Jeter, who is retiring at the end of the season, went 1 for 3 with a first-inning single and a third-inning walk. Before the game, he was honored during a 45-minute ceremony on the field that included NBA great Michael Jordan and baseball ironman Cal Ripken Jr.
Kansas City went ahead in the second when Josh Willingham reached on an infield single near the mound, advanced on Mike Moustakas' single and scored with two outs when Nori Aoki hit a slow roller that Greene threw wildly past first base.
Beltran dropped Alex Gordon's easy fly leading off the third, and Gordon stole second before scoring on Eric Hosmer's single.
Greene gave up six hits and three walks in five innings.