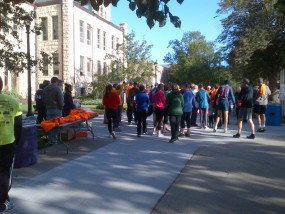 Bright orange t-shirts could be seen throughout K-State's campus on Saturday, as runners participated in the third "C. Clyde Run/Fun Run/Walk".
The day kicked off at eight o'clock that morning with check-in.  The 5K race began at nine, with the "Midge's Mile Family Fun Run" beginning at ten.  The event concluded with an awards ceremony at 11:15 a.m.
Kansas State University students created the event in 2012, in recognition of the 50th anniversary of the business college.  The event not only honors the college's first dean, C. Clyde Jones, but also raised money for Shepherd's Crossing.
Shepherd's Crossing is a ministry that assists local residents with budget counseling, referrals and financial support.  The group offers assistance with paying utility bills, rent, and prescription medications for people living in Riley County and St. George.
Last year, the C. Clyde Run raised $13,500 for the organization.