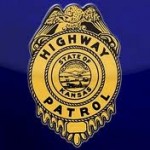 A Wheaton man was injured in a semi-truck accident in Pottawatomie County early Tuesday morning.  Michael Hart, 36, was taken to the Onaga Community Hospital. following the accident which was reported shortly after five a.m. on K-16 and Railroad Street in North Central Pottawatomie County.
The Kansas Highway Patrol reports Hart was driving a 2004 Freightliner Semi on Railroad Street in Wheaton and made a right-hand turn onto K-16 highway. Tires from a 2013 Bulk Trailer being hauled by the semi went into a ditch, causing the power unit and trailer to roll and land on the passenger side.
In addition to Hart being injured, K-16 highway was blocked for a while. Hart did have a seat belt on.