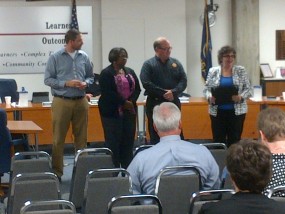 One of the major topics of discussion during Wednesday night's Manhattan Ogden USD 383 school board meeting was the possibility of forming a separate seventh grade football program.
Several presenters provided information on the topic, and shared different reasons how the program could benefit seventh grade football players.  Not only is Manhattan's junior high football program the only one in the league to be combined, but it was brought up that more players would see game time if the program was split.
Board member, Darrell Edie commented, "I'm sitting here weighing, 'okay, $8,900..the State of Kansas is losing money'.  Yet, my position is-I'm here for the kids".
The separate seventh grade football program proposal was approved unanimously, on the first reading.  It will be implemented for the 2015-2016 school year.
————————-
The other major agenda item involved the secure entrance for the College Hill Preschool.
Phase one of the project was approved during a previous school board meeting, but the design was brought to the board Wednesday evening.
The major change that BG Architecture came up with, was that the main entrance should be changed to the original entrance that was used when the building was constructed.
Board members seemed in support of this idea, and this topic will be discussed in further detail during upcoming meetings.
—————————
Four board members were recognized for achieving the Honor Roll Level 1 in KASB Leadership Academy's training program last year.
Darrell Edie, Aaron Estabrook, Curt Herrman, and Pat Hudgins all received this honor.