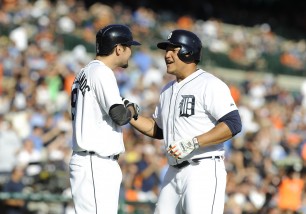 DETROIT — Brad Ausmus called the Tigers' series against the Kansas City Royals the biggest of the season so far.
Detroit got off to a good start.
Torii Hunter had two of his three hits in a six-run third inning and Detroit beat Kansas City 9-5 Monday to move within a game of the American League Central-leading Royals.
"I thought there was going to be more energy in our ballclub today (than in recent games), because we're looking up at the Royals in the standings and this is our chance," the manager said after the win.
The win was the Tigers' 9,000th in franchise history.
Justin Verlander (13-12) allowed four runs and six hits in seven innings, walking one and striking out four for Detroit, which moved into a tie with Seattle for the second AL wild card.
"It was pretty good," Verlander said. "They put up a couple runs in a couple innings, but even after they got those two early runs, I went back and watched the video and those were all good pitches. They've just got a good lineup."
Nick Castellanos had two hits, two runs and two RBIs for the Tigers. Victor Martinez had three hits and an RBI, and Hunter scored twice and drove in a run.
Royals starter Jeremy Guthrie (10-11) allowed eight runs — six earned — and 10 hits in 2 2/3 innings. Guthrie has given up 14 earned runs in his last 6 2/3 innings against Detroit.
"We were down six and I knew we were going to battle back and make it interesting," Kansas City manager Ned Yost said. "We had the tying runs on in the eighth."
Lorenzo Cain hit an inside-the-park home run for the Royals in the seventh inning. Eric Hosmer had three hits with an RBI for the Royals.