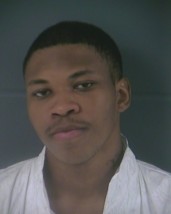 Two Junction City men facing charges in connection with a July shooting are facing arraignment dates in October.
Robbie Dewayne Fountain Jr.(21) was bound over on an attempted murder charge, with arraignment set for October 20th. Fountain's probation was also revoked and he was ordered to serve 24 months in the Geary County jail during an appearance in Geary County court Tuesday.
Jefferson James (34) was bound over on a conspiracy charge in connection with the shooting and his arraignment is set for October 10th.
The incident occurred on West Sixth Street in Junction City, where a Wendy's fast food restaurant is located. One individual went to the Geary Community Hospital but was treated and released.