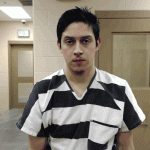 The St. Marys man charged with unintentional, but reckless, murder in the second degree after his jury trial last month, was sentenced Thursday in Pottawatomie County District Court.
Pablo Gonzalez was found guilty on the murder charge, however was found not guilty of the aggravated assault charge stemming from the same evening. Gonzalez was charged with these counts, after a shooting incident that took place on New Year's Day in St. Marys, where Levi Bishop (24) was found dead.
Gonzalez received a 123 month, or a 10 year, sentence. He also will be credited for the time he has already served in jail.
————————-
A Duluth teenager was sentenced in Pottawatomie County District Court Thursday morning, for burglary charges stemming from an April incident.
The burglary Nathan Bell was found guilty of committing, took place in Onaga.  Several firearms were recovered after law enforcement investigated the burglary.
Bell received a 12 month underlying sentence on the burglary charge-with the department of corrections, six months on the felony theft and 12 months on the misdemeanor theft. The court ran all counts concurrent to each other and imposed costs.