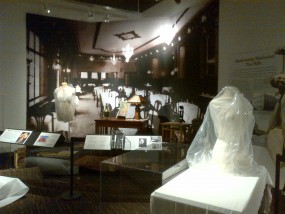 For the first time, the Flint Hills Discovery Center will welcome two brand new temporary exhibits at the same time:  Flint Hills Forces and Animal Secrets.
The "Flint Hills Forces" exhibit covers the shaping of Manhattan, Fort Riley and Kansas State University from 1917-1963.  It is located on the second floor, in the temporary exhibit room-to the right of the classroom.
This is the second Forces installment to come to the center.
Several tours and lectures will coincide with the display, including a walking tour on Sunday, October 5th.
"Animal Secrets" is located outside of the "Flint Hills Forces" exhibit, near the children's play area.  This exhibit is aimed towards children, and allows them to experience nature from an animal's point of view.
Both exhibits will open to the public on Saturday, and will be available to view until February 1st.