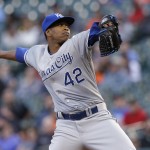 CLEVELAND (AP) — With another win, the Royals stepped closer to history and a playoff berth.
They've got a much bigger goal in mind.
Rookie Yordano Ventura blanked Cleveland's punchless offense for seven innings as Kansas City kept pressure on first-place Detroit in the AL Central with a 7-1 win over the Indians on Tuesday night.
Following the game, the Royals retreated to their clubhouse to watch the ninth inning of the Tigers' 5-4 win over Chicago. As they ate their postgame meals, Kansas City's players roared loudly when the White Sox scored three runs in the ninth to tie it. It got much quieter when Miguel Cabrera delivered a game-winning hit to keep the Tigers one game ahead of Kansas City.
Still, the Royals are stalking.
Manager Ned Yost knows his club almost has a wild-card berth locked up. However, he's got his sights on a bigger prize.
"I'm not really interested in the wild card right now," Yost said. "That (magic) number doesn't mean much to me. The wild card has always been Plan B. We're in good shape right now. Our focus is on winning this division."
The hard-throwing Ventura (14-10) allowed four singles and threw a 100 mph fastball on his 104th pitch.
Salvador Perez's two-out, two-run double off Danny Salazar (6-8) put the Royals ahead 5-0 in the fifth and they turned their attention to the left-field scoreboard to monitor the Tigers' score. Kansas City remained one game out of first with five games left.
It's been 29 years since the Royals were in the postseason, and that run in 1985 ended with their only World Series title.
At 86-71, Kansas City matched its win total from last season. It's the first time the Royals have had consecutive seasons with at least 86 victories since 1977-78.
The playoffs are within reach, but the Royals aren't banking on anything just yet.
"We've got to stick to the plan," first baseman Eric Hosmer said. "We keep saying it over and over again, but it's what you have to do as a team. We went out and took care of our business."
The Indians' faint playoff hopes grew dimmer. Cleveland trails Kansas City by 4 1/2 games in the wild-card chase with four games remaining.
Cleveland's offense went into a funk at the worst time possible. The Indians scored an unearned run in the eighth, ending a string of 19 straight scoreless innings.
Ventura made his major league debut against the Indians last September, a performance Indians manager Terry Francona called "electric."
"We're not hoping for electric tonight," Francona said beforehand.
Ventura didn't have to be. The Indians are currently powerless.
With a chance to stay in the race in the season's final week, Cleveland is collapsing.
"We didn't win, which we set out to do," Francona said. "The only thing we can do now is play tomorrow and try to win that game."
Omar Infante's two-run double in the fourth gave the Royals a 2-0 lead, and with the Indians' offense sputtering, Ventura had more than enough cushion to notch his fifth win in six starts and improve to 3-0 with a 1.57 ERA in five career starts against the Indians. He's 7-1 with a 2.02 ERA in his last eight starts in the division.
"He's a special guy," Yost said. "He has all the makings of being a high-level, upper-tier pitcher in the American League."
In the fifth, Salazar, who struck out the side in the first two innings, got two quick outs before Hosmer doubled and scored on Billy Butler's double. Alex Gordon was walked intentionally and Perez drove in two with his shot to left-center, the ball just clearing lunging left fielder Michael Brantley's glove.
Salazar was dominant in the early going, getting six strikeouts in the first two innings with each whiff coming on a wicked change-up that badly fooled the Royals hitters.
He escaped a threat in the third, but Salazar wasn't so fortunate in the fourth, when he walked Butler and gave up a single to Gordon before Infante pulled his double into the left-field corner.