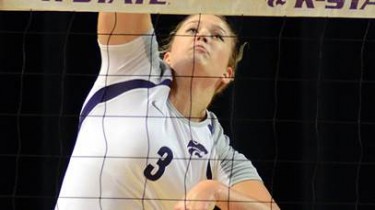 (Photo Courtesy Kansas State Athletics)
By Chris Kutz, K-State Athletics Communications
ANN ARBOR, Mich. – Behind career-highs in kills and blocks by redshirt senior Chelsea Keating, the K-State volleyball team wrapped up its nonconference schedule with its 11th-straight victory, a 3-1 win over Youngstown State (18-25, 27-25, 25-17, 25-17) on Saturday in Cliff Keen Arena.
Keating had 13 kills and eight blocks, along with 11 digs to also tie another career-high, to help lead the Wildcats (13-1) to a first-place finish at the Michigan Invitational, the third in-season tournament championship for K-State this season.
Keating was one of four Wildcats who reached double-digits in kills as the outside hitter was joined by Kylee Zumach (12), Brooke Sassin (11) and Katie Reininger (10). Redshirt senior Natali Jones fell one kill short of reaching the threshold, notching nine kills to match her career-high
Keating (24 kills, 34 digs, 13 blocks, 5 aces during the tournament) and Reininger (39 kills, 18 blocks) were named to the all-tournament team while Zumach picked up tournament MVP honors. Zumach had 51 kills and eight blocks during the tournament to help the freshman pick up her second tournament MVP award this season (Varney's Invitational).
Keating was also one of two Wildcats who had a double-double. Redshirt sophomore Katie Brand had 47 assists and 12 digs to record her 10th double-double of the year. For Keating, it was her second career double-double, both of which have been registered this season.
Senior Gina Madonia helped K-State defensively and at the service line by tallying a match-high 13 digs and a career-high four aces.
The Wildcats had 55 digs and eight aces to the 48 digs and seven aces by the Penguins (9-6).
K-State trailed throughout the first set, but it did manage to pull within two, 18-16, after a run of five straight points. Keating and Taylor Johnson, who had five blocks, capped the run with back-to-back duo blocks. The Penguins did not allow the Wildcats to close the gap any closer, though, as they used two kills, two blocks and an ace to help clinch the set.
In the second set, K-State seized a 14-9 advantage after going on a 9-2 run, a burst that featured three of K-State's four blocks in the set. The Penguins fought back, tying the match three times and as late as 25-25. The Wildcats needed their third try at set point to win the set as Keating's eighth kill of the day sealed the second in favor of K-State.
After hitting .103 in set one and .303 in set two, the Wildcat offense used a .419 hitting percentage to put away the Penguins early in the third. Middle blockers Reininger and Jones were perfect on their seven combined attacks as Jones' third kill of the set gave the Wildcats their largest lead, 23-14. Jones also had four blocks in the set.
Sassin had five of K-State's 15 kills in the fourth, but a .091 attack percentage by Youngstown State tilted the set in favor of the Wildcats. The Wildcats built an 18-14 lead on consecutive kills by Sassin and Keating; however, K-State's final six points came the way of Youngstown State errors, including five on attacks.
K-State now travels back to Manhattan for a week of practice before it kicks off the Big 12 portion of its schedule on Saturday, September 27 against Baylor in Ahearn Field House at 7 pm.