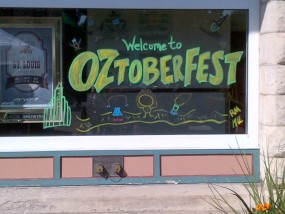 Wizard of Oz fans of all kinds turned out for the Oztoberfest celebration in downtown Wamego.  The event began with "Night at the Museum" on Friday evening, but a bulk of the activities were held on Saturday.
A large portion of Lincoln Street was blocked off for the Saturday festivities, as well as a few conjoining side streets.
The vintage car show featured several different vehicles, as well as the traveling memorial for the American Legion in Wamego.
Munchkin Land was the title of the area for children.  Two bouncy houses were available for kids to enjoy.
Performers could be seen all day on the Emerald City Stage.  Later on Saturday, a costume contest was held for both children and adults.  Costume contest categories included best Dorothy, best Lion, best Glinda, and many more.
Oztoberfest-goers could walk the yellow brick road, meet Wizard of Oz characters, enjoy local food vendors, participate in the poker walk, and visit the Oz Museum and Oz Winery.