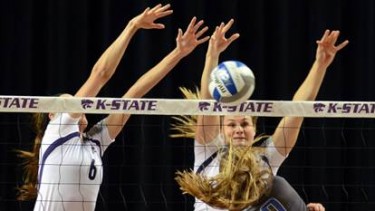 (Photo Courtesy Kansas State Athletics)
By Chris Kutz, K-State Athletics Communications
The K-State volleyball team overcame a slow offensive start in the first set and went on to sweep its opponent for the second straight night as the Wildcats beat Middle Tennessee 3-0 (25-21, 25-15, 25-17) on Friday in Bramlage Coliseum.
A night after hitting over .400 for the entire match, the Wildcats (4-1) hit .240, including over .300 in each of the final two sets. The K-State defense, meanwhile, limited the Blue Raiders (1-5) to a sub-.100 hitting percentage on the night and out-dug the visitors, 44-24.
"Sometimes it goes smoothly and you build momentum easily and sometimes you really have to grind – this match was a little bit of a grind for us," said K-State head coach Suzie Fritz. "It was not coming as easily for us. So we had to grind it out, and those are good matches too. You have to have both sides. You have to be able to play within a system and play smoothly, and you have to grind it out when you need it."
The win extended K-State's winning streak against non-conference opponents at home to 14 matches.
Redshirt sophomore Katie Brand helped K-State out of its early offensive woes by tallying a match-high 33 assists, with 23 assists being recorded over the final two sets. The setter also had seven digs, three blocks and three kills.
"[Brand] got it going in sets two and three," said Fritz. "She managed the situation pretty well because we were not putting her in great situations, and yet she was trying to give us some opportunities and trying to get us some swings. She made some pretty good choices."
Freshman Kylee Zumach led K-State with a season-high 13 kills, her second straight double-digit effort in the kills category. Redshirt sophomore Katie Reininger also had a season-high in kills with nine while she tallied six blocks as well.
K-State trailed early in the first set, 6-3, before it called a timeout to help stall the Blue Raiders. The move worked as it ignited a 9-0 K-State run that eventually gave the Wildcats a 12-6 advantage. Over the run, Middle Tennessee committed four errors while Sheridan Zarda, who was in serve throughout, had an ace that made it 9-6 and forced the Blue Raiders to call its second and final timeout.
After hitting .062 in the first, the Wildcats answered by hitting .324 in the second set. K-State had 17 of its 40 kills in the match during the second, led by seven from Zumach. Zumach was flawless on her nine attempts in the second, hitting .778.
In the third, K-State improved upon its second-set hitting percentage by hitting .333. Reininger had five of her nine kills in the third, including one that gave K-State an 8-7 lead and an advantage the Wildcats never relinquished. Middle Tennessee did bring it within two, 15-13, following a bad set by Brand, but back-to-back Blue Raider errors and two kills from Reininger helped the Wildcats open a 20-14 advantage before closing out the match.
"I did not think we were hitting with the same kind of purpose early," said Fritz, "but we found a little better rhythm late and got a little bit smarter, started tipping a few more balls, and just found ways to get kills and generate some momentum. When we started to do that, things started to come together."
K-State and UCF will close out the Varney's Invitational in Bramlage Coliseum on Saturday, September 6 in a battle for first-place in the tournament. The teams, both 2-0 so far this weekend, will square off at 7 pm.