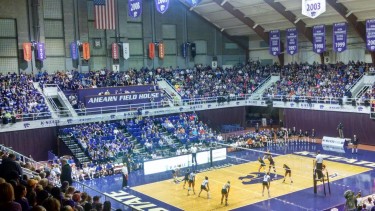 By Chris Kutz, K-State Athletics Communications
The No. 25 K-State volleyball team had its four-match winning streak halted on Saturday as visiting No. 2 Texas swept the Wildcats (25-19, 25-22, 25-11) before 3,927 in Ahearn Field House.
The Wildcats (17-3, 4-2 Big 12) were unable to control the attack by the Longhorns (14-0, 6-0 Big 12), who hit .406 to K-State's .108. Texas also out-killed the Wildcats, 50-30.
"Texas is a very good volleyball team, but we did not play to our capabilities and that is disappointing," said K-State head coach Suzie Fritz. "How can we respond differently and more effectively – those are things we have to fix. It is all about what we learn from this experience and what we do next."
The loss was the 22nd straight by the Wildcats to the Longhorns.
Natali Jones led the Wildcats with seven kills while Kylee Zumach added six.
"We always talk about handling the little things, off blocker plays, tips, stuff like that, and I think we could have done a better job of that tonight," said Jones. "We just need to bring it in and slow it down."
Jones and Zumach were two of three different Wildcats who had three blocks, joined by Katie Reininger. Redshirt senior Chelsea Keating paced all Wildcats with five stuffs.
"I just do not think we handled ourselves very well," said Keating. "[Texas is] going to have [its]hero moments. They are going to have their really big hits and really big blocks. I think bouncing back and going point-by-point with them instead of getting caught up with them is best. We could have been a little bit more composed."
Zumach had four of her six kills in the first, but the K-State defense could not corral the Longhorns. Texas recorded 21 kills and only one attack error, tallying a .588 attack percentage. K-State, which did not cut the Texas lead any closer than four after the media timeout, fought back with 12 kills on 31 attempts (.290 attack percentage, three errors).
In the second, K-State overcame a sub-.100 hitting percentage by blocking six Texas attempts, including back-to-back triple blocks that helped K-State climb out of an early 5-0 deficit and tie it up at five-all. The two sides fought back and forth through the set, with neither side taking a lead larger than two points until after it was tied, 22-22.
K-State evened it up after trailing by two, 22-20, when Zumach hammered in her only kill of the set and paired up with Reininger for a block that made it 22-all. Texas scored three consecutive points to close out the set, though, with a kill by Haley Eckerman (11 kills in the match), a K-State attack error, and a Texas block.
After hitting .206 in the second, Texas came out and hit .429 in the third. The Longhorns forced the Wildcats to burn both of their timeouts early and went on to score 15 of the final 22 points after the final K-State break. The Wildcats had eight kills against eight errors while they did not register any blocks.
"If you want to be at that level you have to know what that looks like," added Fritz. "Having to struggle in some ways and fail, and not managing adversity, will help us with development. We will be better when things are going our way."
K-State returns to action in Ahearn Field House on Wednesday, October 22 against Oklahoma. First serve is set for 7 p.m.
Stay connected to all things KSU on the go just text EMAW to 88474
For full video wrap-ups, including analysis, highlights, coaches & player interviews of K-State Football & Basketball check out PowerCatGameday.com