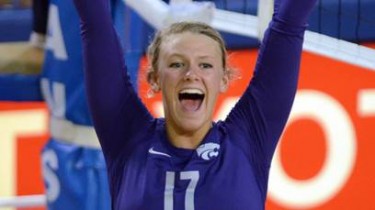 (Photo Courtesy Kansas State Athletics)
By Chris Kutz, K-State Athletics Communications
Behind double-digit kills by four Wildcats, the K-State volleyball team earned its third straight Big 12 win with a four-set victory against Iowa State (25-23, 25-12, 23-25, 25-14) on Wednesday in Ahearn Field House.
Katie Reininger's 14 kills led the quartet of Wildcats (16-2, 3-1 Big 12) that included Brooke Sassin (13 kills), Chelsea Keating (10) and Kylee Zumach (10). Overall, K-State out-killed the Cyclones (8-6, 1-3 Big 12), 57-45.
"It was just a great game," said Reininger. "Our team was in rhythm. I think we were working together and working hard. It is easy to get kills when your team is behind you."
Reininger hit .522 to tally her Big 12 career-high 14 kills. The redshirt sophomore also had seven blocks and an ace.
"[Reininger] was good on both sides of the ball, offensively and defensively," said K-State head coach Suzie Fritz. "I thought it was not just about power – it was about finesse. She hit them hard, and she moved it around. She was kind of keeping them guessing a little bit, getting into some different gaps and hitting some different shots along the net that really kept them off-balance."
Keating recorded her double-figure kills on a .400 hitting percentage while adding five digs and two aces. Eight of Keating's 10 kills came in the final two sets.
"I think Katie Brand has a lot of confidence in [Keating] in those tight-game situations, which is good," said Fritz. "She is a fifth year senior – she has earned that. Keating, similarly to Reininger, played smart. She is also a very powerful attacker, but she hit productively because she managed the situations really well."
Brand piloted the Wildcat offense to a .259 hitting percentage–K-State's highest clip in a Big 12 match this season–with 42 assists, including 18 in the first set. The redshirt sophomore also had a team-high 13 digs to help record her 12th straight double-double and 14th overall this season.
The K-State defense, meanwhile, had 14.0 blocks and limited Iowa State to a .149 hitting percentage. Brand matched Reininger for the team-lead in blocks with seven. Natali Jones added five blocks in three sets while Keating contributed four.
The three Big 12 wins in a row for K-State are its most since October 20-27, 2012. Wednesday's victory was also K-State's third in a row against Iowa State in Manhattan.
Both offenses hit over .400 in the first set–combining to only register seven attack errors–but the Wildcats won out in part to a personal four-point run by Reininger (three kills, one block) that allowed K-State to tie it up at 14-14. Later in the set, one of Reininger's eight kills in the first gave the Wildcats an 18-17 lead, an advantage they never relinquished.
In the second, the Wildcat defense held Iowa State to just eight kills, along with eight errors, on 27 attempts for a .000 hitting percentage. The Wildcats pulled away early, keyed by a 6-0 run that made it 10-4 and featured a pair of aces by Jones. The Cyclones closed it within four at 13-9, forcing a K-State timeout, but the Wildcats capitalized on an Iowa State service error out of the break to score 12 of the final 15 points.
Iowa State had 26 of its 58 digs in the match during the third, limiting the K-State attack and bringing the match to 2-1. After Iowa State pulled away and took a 21-17 lead, the Wildcats climbed back and took hold of a 22-21 advantage following three straight kills by Sassin. With the score tied at 23-23, back-to-back kills by Iowa State gave the Cyclones the set.
Iowa State had no answer for K-State in the fourth, though, as the Wildcats had 12 kills to the Cyclones' five while Iowa State hit -.062. Keating and Sassin combined for nine of K-State's dozen kills, with Keating converting five kills on her nine attempts for a .444 hitting percentage. Keating also had both of her aces in the match during the fourth, with the final one finding the back line untouched for match point.
The Wildcats will return from a bye this weekend on October 12 for a match at TCU. The contest in Fort Worth will start at 6:30 pm.