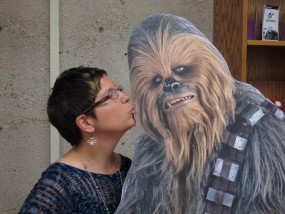 One might say the force is strong in Manhattan, Kansas! On Saturday, October 11, from 10 a.m. to 6 p.m., Manhattan Public Library will celebrate Star Wars Reads Day with an Empire-sized party for all ages.
Star Wars Reads Day was started in 2012 by Lucasfilm and its publishing partners as a way to highlight the vast number of books written about Star Wars, its characters, and its universe. Last year, there were more than 2,000 schools, bookstores, and libraries that marked the day with read-a-thons, movie showings, and creative activities that feature the beloved sci-fi series and its characters.
This year, Manhattan Public Library is getting in on the fun with a full day of activities and events for all ages. The celebration will kick off at 10:00 a.m. with crafts and activities, including Star Wars origami, a Yoda ears project, and Star Wars magnetic poetry. Adventurous folks can also step outside to participate in a Jedi Training Academy and obstacle course to earn a Jedi knight certificate.
From 12:00 to 2:00 p.m., there will be a Star Wars photo booth on the second floor. Using a green screen, you can be transported to the distant land of Tatooine or the dangerous halls of the Death Star. To add to the fun, you can pose with one of our resident librarian-Jedis!
For everyone who wants to make a little noise in the library without getting shushed, you can participate in a Wookie Yelling Contest from 12:30 to 1:00 p.m. in the third floor atrium. Local Star Wars experts from Project Nerd will be on hand to help judge the event, and the top three Wookie yells will win prizes. Keri Mills, Young Adult Librarian, says, "Try to sound like a cross between a bear and a walrus."
At 1:00 p.m., there will be Star Wars chamber music with local musicians in the first floor atrium. Then, at 2:00 p.m. in the Groesbeck Room, a montage video of comedy Star Wars spoofs will be shown.
Throughout the day, there will be opportunities to participate in Star Wars trivia, with a trivia contest at 2:30 p.m. in the Groesbeck Room.
Star Wars Reads Day includes a movie in the Groesbeck Room at 11:00 a.m. and 3:00 p.m.
Costumes are strongly encouraged.