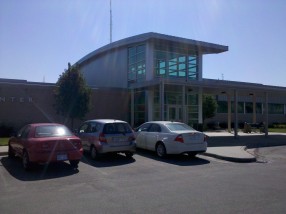 Officers with the Riley County Police Department on patrol in the Aggieville Business District during the early Sunday morning hours arrested Travis Allen, 36, of Junction City for aggravated assault, interference with law enforcement, felon in possession of a firearm, and criminal carrying of a weapon.
At approximately 1:45 AM, officers responded to a complaint of a fight in an alleyway in the 1200 block of Moro Street. Officers arrived and quickly dispersed the fight, but witnesses told responding officers one of male subjects involved threatened at least one person with a handgun, and they gave officers a detailed description of him. A short time later officers on Moro Street in the 1200 block located the subject (later identified as Allen) and witnessed him in possession of a handgun. They attempted to detain him with empty-handed control techniques in order to investigate the incident further. He immediately resisted the officers, and they were unable to gain physical control of him. Officers then deployed an electronic control device (ECD), but it too was initially unsuccessful in gaining control of Allen. Two subsequent deployments of an ECD were necessary to finally secure custody of Allen and place him in handcuffs. Allen was transported to the Riley County Jail and remains confined a bond of $30,000.00. He required no medical attention resulting from the arrest.
Riley County Police Department Patrol Officer Ryan Doehling was injured during this altercation and as a result was transported to Mercy Regional for treatment of non-life threatening injury.