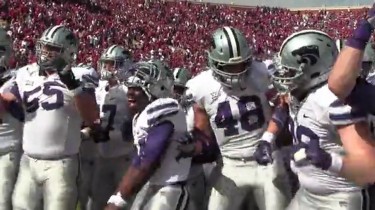 By Kenny Lannou, K-State Athletics Communications
With its 6-1 record heading into this weekend's matchup with Oklahoma State, Kansas State was ranked ninth in the inaugural College Football Playoff Top 25 rankings announced Tuesday on ESPN by the 12-person committee.
The Wildcats were one of five Big 12 teams to debut in the poll with TCU (7th), Baylor (13th), Oklahoma (18th) and West Virginia (20th) also ranked. Auburn, one of K-State's non-conference opponents this season, was ranked third.
The selection committee will prepare six more rankings this season, including the final one on Selection Day, Sunday, December 7. The top four teams in the final rankings will play in the semifinals on January 1, 2015, at the Rose Bowl and the Sugar Bowl.
K-State (6-1, 4-0) returns to action on Saturday when the Cowboys (5-3, 3-2) visit Bill Snyder Family Stadium for a 7 p.m., ABC-televised matchup. The game will be K-State's 18th-straight sellout as standing room only tickets remain available.
Pregame coverage begins Saturday at 3 p.m. with Powercat Gameday live from Cat Town southwest of Bill Snyder Family Stadium.