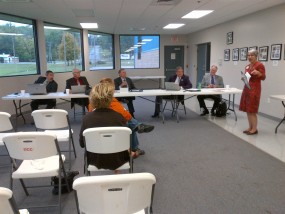 A special improvement district will be created, after the Riley County Commission unanimously approved the resolution during their meeting Thursday.  The City of Manhattan will actually be creating the district near Grand Mere, but two of the properties were just outside of the city limits, which meant the county had to take action on the item as well.
The purpose of the district is to construct a public street in that area.
A few other updates were presented, by county department heads, during the meeting.  County Treasurer, Shilo Heger had some encouraging news with her financial report, as sales tax numbers are looking good.  Emergency Management Director, Pat Collins also presented a Tuttle Creek Fire Station design contract, which was approved unanimously.
This commission meeting was held in Ogden, as it was the second stop on the commission's small towns tour.  Their next stop will be in Randolph on Thursday.  The commissioners will not have a meeting on Monday, as they will be attending staff training at the Farm Bureau building.