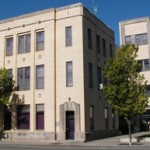 After returning from a fire in Ogden, Riley County Fire Chief, Pat Collins spoke to the Riley County Commission about fireplace inspections during their Monday meeting.
Ogden Elementary students were evacuated Monday morning, due to a small fire reported in the principal's office.  The fire caused the smoke detectors to go off, and students and faculty managed to leave the building in under a minute.
Although the cause of the fire is unknown, Collins said there was only $100 damage to a power outlet.
Collins transitioned from this topic, to his smoke detector topic he had prepared.
Since Sunday is daylight savings time, Collins reminded members of the public to replace their smoke detector batteries.
Collins also took the opportunity to talk about fireplace inspections.  He mentioned most people have their fireplaces cleaned and inspected prior to the winter season.
Collins advised people living in close proximity to Fort Riley should particularly be aware of the fact that their fireplaces can produce cracks, since the noise from Fort Riley can often be loud.
———————-
Several department heads and local officials were in attendance for the meeting's press conference.
County Clerk, Rich Vargo provided an update on the advanced voting process, as 1,455 people have participated in the in-person advanced voting option.  1,228 ballots have also been mailed out to county residents.
Not only is it general election time, but County Extension Director, Jennifer Wilson mentioned it's also county extension election time.  Voting will be open this week at 110 Courthouse Plaza, and on Sunday at Pottorf Hall in CiCo Park.
Commission Vice Chair, Ron Wells presented a Veteran's Day proclamation, officially declaring November 11th as Veteran's Day in Riley County.