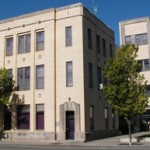 Two project bid openings, and one equipment purchase bid opening, were held during Thursday's Riley County Commission meeting.
The first was for the University Park/Lakeside Heights utilities extension project.  Two bids were submitted for this project:
Josh Connett Excavation LLC of Manhattan-$53,465
Larson Construction, Inc. of Manhattan-$53,465
Commissioners and public works officials both stated this was the first time they have received identical bids.
An engineer's estimate of $54,720 was also submitted.
The second bid opening was for the Riley County Law Enforcement Center standby electrical power system expansion.
One bid was submitted for this project:
Economy Electric, Inc. of Manhattan-$42,625
The engineer's estimate came in significantly higher, at $80,000.
Five bids were submitted for the final bid opening.  This was for a wheel loader for the solid waste department:
Berry Tractor, Inc. of Topeka-$217,983
Murphy Tractor of Miltonvale-$172,000
Foley Equipment of Manhattan-$167,682
Sellers Equipment Inc. of Salina-$202,833
The Victor Phillips of Topeka-$183,104.93
All of the bids for all three openings were approved to move forward for staff evaluation and recommendation.