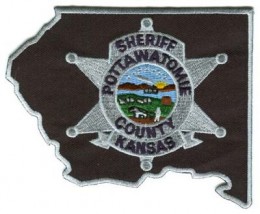 The Pottawatomie County Sheriff's Office is investigating a reported aggravated assault which occurred at approximately 11 p.m. on Wednesday.
The incident is said to have occurred in the 3700 block of Powers Lane, within the Green Valley trailer park in rural Manhattan.  The victim reported the suspect approached him and asked for a lighter.  As the victim walked closer to the suspect, the suspect pulled out a hand gun from his pocket.
The victim then ran from the suspect, and heard what he believes was the sound of the suspect firing two rounds from the handgun.
No one was injured in this incident, and the suspect is described as a light complected black male who may have been wearing a black and white stocking cap.
Anyone with information about this crime is being asked to call the sheriff's office.
———————-
A few criminal damage to property and theft reports have recently been filed in Pottawatomie County.
The county sheriff's office investigated one location after an unknown person or persons entered a shed off of Highway 24, and took 18 rolls of aluminum panels, a roll of chain link fence, a metal cabinet, and several other items totaling $1,750.  This theft is said to have occurred between September 26th and October 10th.
On the 13th of this month, an unknown suspect or suspects entered a shed in the 7300 block of Flint Rock Road, and took a seven inch DeWalt grinder, a Porter Cable tiger saw and an aluminum tractor radiator.  The loss in this case is around $500.
A criminal damage to property incident reportedly occurred during the overnight hours of October 15th-16th, in rural Havensville.  The suspects in this case reportedly caused around $300 worth of damage to outdoor lights.
Anyone with information about any of these crimes is being asked to contact the Pottawatomie County Sheriff's Office.