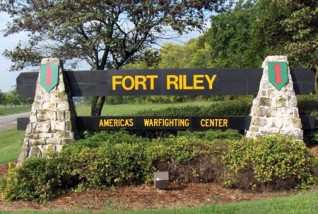 The 1st Infantry Division's headquarters will case its colors in a ceremony at 10 a.m. Wednesday at Fort Riley's Victory Park in preparation for its deployment to the Central Command area of responsibility.
About 200 Soldiers from the Division Headquarters and Headquarters Battalion will deploy to Baghdad and Irbil, Iraq, as part of the nation's strategy to degrade and destroy ISIL. The remaining 300 DHHB Soldiers will deploy to the Central Command area of responsibility.
Brig. Gen. Eric J. Wesley, the 1st Inf. Div.'s deputy commanding general for support, will take the reins of the "Big Red One" rear detachment at Fort Riley at the ceremony as Maj. Gen. Paul E. Funk II, 1st Inf. Div. and Fort Riley commanding general, deploys with the headquarters battalion. Command Sgt. Maj. Maurice Jackson of the 2nd Armored Brigade Combat Team will step in as the division's senior noncommissioned officer, taking over for Command Sgt. Maj. Michael A. Grinston, who will deploy with Funk.
Wesley was commissioned as an armor officer from the United States Military Academy in 1986. He has been assigned to the 1st Inf. Div. three previous
times since 1991 and served as the commander of the 1st Inf. Div.'s 1st Armored Brigade Combat Team. Wesley was most recently the director for plans
at the ISAF Joint Command in Afghanistan.