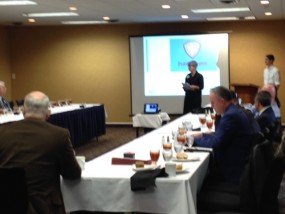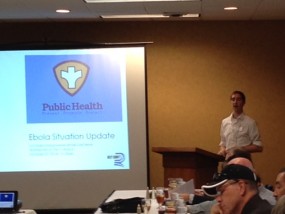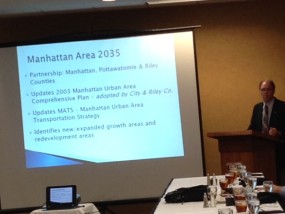 Ebola was first discovered in 1976, but just recently made international news, with more than 10,000 currently having the illness. However there have been only three confirmed cases in the United States.
Riley County Public Health Emergency Preparedness Coordinator Jason Orr told intergovernmental leaders Monday, while 50 percent of those in Africa have passed away, there are risk factors there the United States does not have–with people able to recover with appropriate care.Orr adds while ebola definitely is a health concern, we shouldn't lose sight of other diseases such as whooping cough or influenza.
What to release to the media, whether travel bans are called for, and whether only certain hospitals can deal with ebola–were just some of the questions at Monday's intergovernmental meeting.
Health Director Brenda Nickel added the correct information needs to get out there. She talked about the importance of transparency when dealing with the public. She also indicated she wasn't sure how effective travel bans might be.
Larry Couchman with Mercy Regional Health Center and EMS also commented on the hospital upping its preparedness–and says while every hospital would have the capacity to deal with ebola, the CDC or Centers for Disease Control and Prevention, would likely direct where an ebola patient would go.Nickel also emphasized the need for the usual health practices of hand-washing, staying home if a person is ill, and checking immunization records.
 And the two talked about community information meetings set for (Tuesday) from six to seven p.m. and on Wednesday from three to four p.m. The meetings will be held at the Fire Station Headquarters building on Denison Avenue.
###
The Manhattan Area 2035 Comprehensive plan update is in Phase four now, with public meetings set for mid November. Manhattan's Assistant Director for Planning Eric Cattell briefed intergovernmental leaders Monday, with one question dealing with Manhattan/Ogden USD 383's involvement in the process.Cattell says 383 is involved and  a new proposed building area on the Pottawatomie County side of the district is featured on one of the comprehensive plan maps…
A reminder the intergovernmental group is made up of representatives from the city of Manhattan, Riley County, USD 383, and Fort Riley.