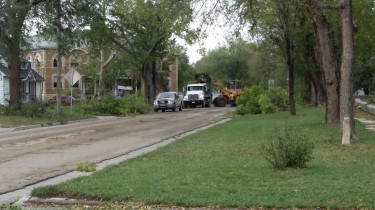 Updated 5:30 a.m. Friday–
Marshall County Public Information Officer Sonya Stohs says power has been restored to Frankfort and streets were passable by 5 p.m. Thursday evening.
####
The Marshall County Sheriff's Department indicates there's been extensive damage in Frankfort, due to an early morning storm that went through the town. Numerous structures were impacted, with mainly roof damage. However traffic is being discouraged in the town until emergency clean-up crews can remove debris. Frankfort is located closet to the junction of Highways 99 and 9.
A news release from Public Information Officer Sonya Stohs, with information directly from Sheriff Daniel Hargrave, says power is out to all of the city of Frankfort, with generators being brought into the City. All interior streets are impassable due to trees and power lines being down.
At this point there is no indication there was any tornadic rotation and that straight line winds were involved. No injuries were reported as of 10 a.m. by the Marshall County Sheriff.