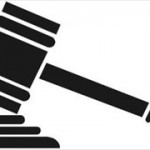 Updated Thursday morning:
New details regarding the murder indicate the death involved a child and occurred in February. A criminal complaint indicated the child died from abuse.
###
A first appearance of a Fort Riley soldier facing murder and child abuse charges Wednesday didn't reveal much new information about the case involving a Monday afternoon arrest. Alexander McConnell,  22, who currently has a Manhattan address, appeared via webcam before Riley County District Magistrate Judge Sheila Hochhauser.
Hochhauser went over the charges and financial situtation with McConnell, who faces counts of first degree murder and abuse of a child. Hochhauser did mention abuse of a child can include knowingly torturing or knowingly shaking a child.
McConnell indicated he has an attorney in Topeka identified only as Mr. McDonald. He also said he is an E-4 Specialist. The judge indicated she would not require a public defender at this time but reminded McConnell he could re-submit a request for one later in the case if needed.
October 14th is McConnell's next court date before Judge William Malcolm, at which time a preliminary hearing date will be established.
Information regarding a victim or victims is still not being released, although court documents indicate there's likely one victim, possibly born in 2013.