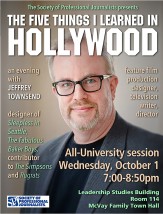 "Hold tight to your own point of view."
This is one of many pieces of advice self-proclaimed Hollywood refugee Jeffrey Townsend gave to K-State students Wednesday and Thursday. Townsend has over three decades experience in production design, 2nd unit directing, network film making, and screenwriting. Townsend was invited by Assistant Professor Tom Hallaq to speak to mainly an audience of students from the A.Q. Miller School of Journalism and Mass Communications. His primary speech topic was "Five Things I Learned in Hollywood".
"I think it's important for our students to hear from people who've worked in the industry so that they understand that [what we want out of them]is not just a bunch of book work." Hallaq explained the purpose behind Townsend's presentations.
Although a large gap exists between real-world news and Hollywood, Townsend's message was clear to students interested in learning about real-world experience. Townsend's five points, listed from five to one, were Hollywood friendships aren't really friendships, don't go to film school, sitcoms are out of touch for a reason, when you're writing, mind the endorphins, and lastly, a 5-million dollar actor really isn't a 5-million dollar actor. One point throughout Townsend's speeches that he couldn't stress enough was the fact that writing and re-writing were entirely separate entities. He credits this life experience he's learned to the correlation between left and right brain functions, where creativity and logic collide.
Hallaq was among the buzz over the week, telling KMAN's Mikayla Gentine that discussions like this were important to student's professional development later on. One of Townsend's five points, don't go to film school, supported Hallaq's claim that hands-on experience tops the notion that grades are everything to a student's resume.
"Getting hands-on experience is very important. It makes a difference. You can't just read it in a book and pass the test with an "A"… You gotta get out there and get your hands dirty."
Townsend has worked on a handful of well-known productions, including the Rugrats, Sleepless in Seattle, After Hours, and Straight Talk. His experience writing and producing creative matter stemmed some advice for not only journalism students, but anyone who will need creativity in their later careers.
"The answer to so many things in life, especially creative issues, is, well what is the story? And can I invent a story that resonates with what is being talked about here or what is being said here?"
Townsend also had nothing but positive things to say about the K-State student body, mentioning that the Wildcats were one of the most attentive, curious and willing to learn groups he'd met in a long time.