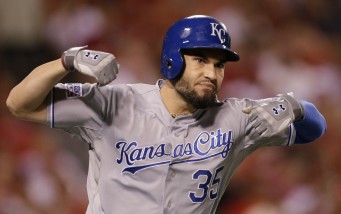 ANAHEIM, Calif. (AP) — Eric Hosmer got his souvenir home run ball back while he stood on the field for a postgame interview, Angel Stadium's silence broken only by a small band of blue-clad fans chanting "Sweep! Sweep! Sweep!"
Hosmer savored the moment, realizing that almost nobody expected the unassuming Kansas City Royals to be collecting keepsakes and plotting playoff sweeps a few days ago.
But with three extra-inning wins in four remarkable days, the long-downtrodden Royals have climbed from the depths of a 29-year playoff absence to the brink of the AL Championship Series.
Hosmer hit a two-run homer in the 11th inning, and Kansas City took a 2-0 lead in the AL Division Series with a 4-1 victory over the Los Angeles Angels on Friday night.
"It's a huge sigh of relief, and it's a big swing for the guys," Hosmer said.
Alex Gordon had an early run-scoring single and Salvador Perez added an RBI infield single in the 11th for the Royals, who became the first team in major league history to win three straight extra-inning playoff games. In its first postseason appearance since 1985, Kansas City is on a playoff roll — and the majors' best regular-season team has not been able to stop it.
"That's what the cool part of this has been — everyone has had their time," said Hosmer, who had three hits and scored two runs. "They've had their moment when they've made a big play or stepped up and did something big. A lot of the times, it was with our back against the wall. Most of the time it was with our season on the line."
Game 3 in the best-of-five series is Sunday in Kansas City, where Angels left-hander C.J. Wilson faces James Shields.
After two wins in the majors' toughest ballpark for visitors, the Royals have the once-mighty Angels on the edge of elimination, largely thanks to a pitching staff that has limited baseball's highest-scoring offense to just three runs in 22 innings.
The Royals finished last in the majors with only 95 regular-season homers, but they've won back-to-back playoff games on 11th-inning shots over the right-field wall at the Big A.
After 10 innings of intense baseball dominated by pitching and defense, Lorenzo Cain beat out a one-out infield single off losing pitcher Kevin Jepsen. Hosmer smacked a no-doubt homer to right field, setting off a celebration for several dozen blue-clad Royals fans in a sea of red at the Big A.
Albert Pujols had a tying RBI single in the sixth for the Angels, but they've been mostly helpless against the Royals. Los Angeles, which led the big leagues with 98 wins, has just 10 hits in the series — none by Mike Trout or Josh Hamilton.
Only eight teams in major league history have rallied to win a playoff series after losing the first two games.
"There are some guys that right now aren't attacking the ball where they can for various reasons. There is not one cure-all that's going to get everybody swinging the bat," Angels manager Mike Scioscia said. "We haven't done a lot of the things we've done during the season, and we put a lot of pressure on our pitching staff."
Signs Pointing To World Series?
The Royals are the sixth team in MLB history to win three extra-inning games in a single postseason. The previous five won the World Series.
Trout got a chance to help in the 11th after second baseman Omar Infante made a throwing error on Kole Calhoun's two-out grounder. But the AL MVP favorite struck out against Greg Holland, finishing his second straight 0-for-4 night in his first playoff series.
Going back to the regular season, the Angels have lost five straight games for the first time all season.
"This series is not over," said Pujols, who is 1-for-8. "Obviously, you don't want to go down 0-2 and go to the other place, but anything can happen. Hopefully our bats get going. … We just need to catch some breaks. If we do, we'll be fine."
The Royals are the first team to play in three consecutive extra-inning playoff games since the 1980 NLCS between Houston and Philadelphia, which had four straight. They followed up their 12-inning wild-card victory over Oakland with a series-opening win on Mike Moustakas' 11th-inning homer, and Hosmer kept it going.
Brandon Finnegan pitched a hitless 10th for the Royals, and the 2014 first-round draft pick earned the win. Holland worked the 11th for his second save of the series.
Along with more lights-out pitching, strong defense again was a huge factor for the Royals.
After C.J. Cron's leadoff double against Wade Davis in the eighth, Angels pinch runner Collin Cowgill decided to test the arm of center fielder Jarrod Dyson, who had just entered the game. Dyson threw out Cowgill at third after catching Chris Iannetta's fly to left-center.
"That's huge. That changes momentum. That changes everything in a game right there," Hosmer said. "That's a big-time play."
Two innings later, shortstop Alcides Escobar turned a tough double play after stretching high to glove an off-target throw.
In a matchup of impressive rookie starters, Yordano Ventura pitched seven innings of five-hit ball for the Royals, and Matt Shoemaker threw six innings of five-hit ball for Los Angeles.