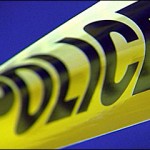 Update at 11:00 Saturday morning
177 has now been re-opened.
Update at 9:30 Saturday morning
Just received word that traffic is backed up for miles, and K-state game-goers should take exit 303. McDowell Creek is also impacted by the accident. Officials also stated there is currently a truck hanging over the bridge, so emergency crews are still working the scene. KMAN will keep you updated as additional details become available.
Original Story-8:45 Saturday morning
Motorists are being asked to avoid the area of 177, coming into Manhattan, over the viaduct.  There has been a vehicle collision in the area, and traffic is currently backed up and not moving.  If individuals need to access the area, individuals are encouraged to take Pillsbury Drive.
An IRIS alert has been sent out, regarding this vehicle accident, to all area residents.