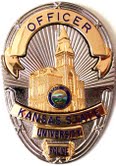 The K-State Police Department has issued a news release, regarding recent robbery crimes near the K-State Manhattan campus, referring to the Riley County Police Department's investigation of two robberies in two days in the 1200 block of Kearney Street and one in the 700 block of Bertrand Street.
The K-State Police Department also has received calls a 48 hour time period for suspicious activity that may or may not be related to these robberies. In those instances, students reported subjects made contact or attempted to make contact while the students were walking. In all incidents, the students were by themselves. The comments and demeanor of the subject(s) alarmed the students and they subsequently reported that activity to K-State police. All of these instances occurred during the overnight hours.
K-State police urge members of the campus community to:utilize services like the Wildcat Walk and Safe Ride;be aware of their surroundings when walking at night and travelling in groups, if possible; report crimes imediately and report any suspicious activity.
The K-State Police Department is in 108 Edwards Hall and can be contacted 24 hours a day at 532-6412.