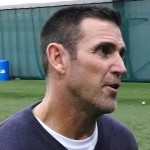 By Chris Kutz, K-State Athletics Communications
Featuring nine NCAA Regional teams and 29 home games, the 2015 schedule for the K-State baseball team was announced on Wednesday by head coach Brad Hill. K-State's 56-game slate starts on February 13 while the 29-game home schedule at Tointon Family Stadium kicks off on February 27 and features opponents such as Creighton, Missouri State, Nebraska, Wichita State, Texas Tech, TCU and Oklahoma.
"Our schedule features a nice balance, from beginning to end, for our new-look team in 2015," said Hill. "Games on the road against Big Ten opponents and the defending Pac-12 champion Oregon State will help prepare us for the always challenging Big 12 slate. Most of all, we are looking to forward to playing in front of our fans once again, who showed up in record numbers last year, starting on February 27."
K-State's season begins with the Snowbird Classic in Port Charlotte, Florida from February 13-15. The Wildcats will be joined by Iowa, Pittsburgh, George Mason and Saint Louis for the three-day tournament at Charlotte Sports Park, the spring training home of the Tampa Bay Rays. The Wildcats will face Iowa in the season opener on February 13 followed by a doubleheader on February 14 against Pittsburgh and George Mason, an NCAA Regional participant last season. K-State ends the weekend with a contest against Saint Louis.
The Wildcats will hit the road again for the second weekend of the season as they head to the Phoenix area for the Big 12/Pac-12 Challenge. K-State will journey to the region to face four different squads from the Pac-12, including Utah (February 19), defending Pac-12 champion and 2013 Super Regional counterpart Oregon State (February 20), Washington (February 21) and Washington State (February 22). The first two games will be at Surprise Stadium, spring training home of the Kansas City Royals and Texas Rangers, in Surprise while the final two games will be at Cubs Park, home of the Chicago Cubs, in Mesa.
The home schedule gets underway at the end of February when K-State will host Eastern Illinois for a three-game set from February 27-March 1. The series against the Panthers will also be the beginning of a season-long 11-game homestand as the Wildcats will take on Santa Clara (March 6-8), Creighton (March 10-11) and Missouri State (March 13-15) before playing a two-game midweek series at Stephen F. Austin on March 17 and 18.
Other nonconference opponents for K-State include a home-and-home series against Omaha (home on March 25, away on April 8), Nebraska (home on April 7, away on April 21) and Wichita State (home on April 14, away on May 5) as well as a road series at Minnesota (April 28-29) and home series against Arkansas State (May 1-3).
The Big 12 schedule for the Wildcats gets underway on March 20 with a three-game series at Texas. K-State will play another conference series on the road, at Oklahoma State from March 27-29, before facing West Virginia from April 2-4 for its first Big 12 home series of the season.
K-State will also face TCU (April 10-12), Texas Tech (April 17-19) and Oklahoma (May 8-10) at Tointon Family Stadium during conference play. The Wildcats travel to Waco from April 24-26 to take on Baylor, and they end their regular season on the road with a three-game set at KU from May 15-17.
K-State's opponents for the 2015 season combined to go 839-649-4 (.564) in 2014. Of the 26 opponents, nine reached an NCAA Regional, four reached the NCAA Super Regionals and three – TCU, Texas and Texas Tech – reached the College World Series.
The Wildcats are currently taking part in fall practices, which started on September 22.
Information about season tickets for the 2015 season will be released in early November.
2015 K-State Baseball Schedule
Dates Day Opponent Location
Feb. 13 Fri Iowa Port Charlotte, Fla.
Feb. 14 Sat Pittsburgh Port Charlotte, Fla.
Feb. 14 Sat George Mason Port Charlotte, Fla.
Feb. 15 Sun Saint Louis Port Charlotte, Fla.
Feb. 19 Thurs Utah Surprise, Ariz.
Feb. 20 Fri Oregon State Surprise, Ariz.
Feb. 21 Sat Washington Mesa, Ariz.
Feb. 22 Sun Washington State Mesa, Ariz.
Feb. 27-March 1 Fri-Sun EASTERN ILLINOIS Tointon Family Stadium
March 6-8 Fri-Sun SANTA CLARA Tointon Family Stadium
March 10-11 Tues-Wed CREIGHTON Tointon Family Stadium
March 13-15 Fri-Sun MISSOURI STATE Tointon Family Stadium
March 17-18 Tues-Wed at Stephen F. Austin Nacogdoches, Texas
March 20-22 Fri-Sun at Texas* Austin, Texas
March 25 Wed OMAHA Tointon Family Stadium
March 27-29 Fri-Sun at Oklahoma State* Stillwater, Okla.
April 2-4 Thurs-Sat WEST VIRGINIA* Tointon Family Stadium
April 7 Tues NEBRASKA Tointon Family Stadium
April 8 Wed at Omaha Omaha, Neb.
April 10-12 Fri-Sun TCU* Tointon Family Stadium
April 14 Tues WICHITA STATE Tointon Family Stadium
April 17-19 Fri-Sun TEXAS TECH* Tointon Family Stadium
April 21 Tues at Nebraska Lincoln, Neb.
April 24-26 Fri-Sun at Baylor* Waco, Texas
April 28-29 Tues-Wed at Minnesota Minneapolis, Minn.
May 1-3 Fri-Sun ARKANSAS ST. Tointon Family Stadium
May 5 Tues at Wichita State Wichita, Kan.
May 8-10 Fri-Sun OKLAHOMA* Tointon Family Stadium
May 15-17 Fri-Sun at KU* Lawrence, Kan.