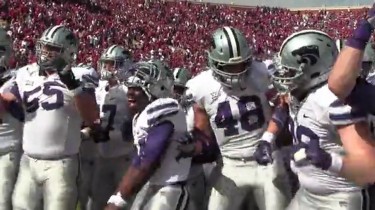 Saturday's 31-30 victory over Oklahoma on Saturday moved the Kansas State Wildcats to #11 in both the Associated Press Sportswriters Poll and the USA Today Coaches Poll. It's the highest ranking for K-State's Football team since they were #5 going into the 2013 Fiesta Bowl.
K-State is now the Big 12's second highest ranked team behind #10 TCU. Baylor which lost Saturday 41-27 at West Virginia fell to 12th in the AP Poll and 13th in the Coaches Poll. Oklahoma which lost for the second time this month is now 17th in the AP Poll and 18th in the Coaches Poll. The win over Baylor allowed the Mountaineers to enter the rankings for the first time this season at #22 in the AP Poll and #25 in the Coaches Poll. Oklahoma State meanwhile fell out of the rankings after Saturday's drubbing by TCU.
K-State returns to action Saturday against Texas for its annual Homecoming Game. Kickoff is at 11 a.m.
For a full video wrap-up and video interviews of Saturday's win in Norman go to powercatgameday.com
Stay connected to all things KSU on the go just text EMAW to 88474
For full video wrap-ups, including analysis, highlights, coaches & player interviews of K-State Football & Basketball check out PowerCatGameday.com