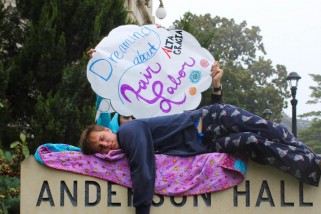 This past Thursday, October 9, six K-State students engaged in a "dream-in" just outside of Anderson Hall. The students dressed up in pajamas and "slept" outside of the building. The purpose of the dream-in was to ask for more Alta Gracia throughout the bookstore.
Alta Gracia is the only factory known in the world, to pay their workers a livable wage, allow them to have a democratic voice and provide them with a safe working environment. Last month, K-State students held an interfaith vigil commemorating garment workers who died producing K-State apparel in unsafe factories worldwide. Students spoke and prayed for positive changes on campus, such as, increased support for living-wage apparel Alta Gracia in the bookstore and affiliation with independent monitor Worker Rights Consortium.
Amy Kessel, an organizer from non-profit Solidarity Ignite said, "While most brands offered in university bookstores are produced in unethical and inhumane conditions, Alta Gracia is providing dignified work and fair wages." While paying well over three times standard wages to garment workers, Alta Gracia costs no more, retail or wholesale, than comparable brands – in fact, it costs less – as can be seen by comparison shopping the limited amount currently offered in the KSU student bookstore.