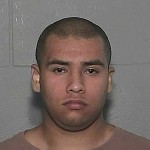 After being found guilty of first degree murder in 2012, the man convicted of killing his girlfriend and one year old son will appeal his life sentence.
According to media reports out of Topeka, Luis Aguirre appealed his sentence, saying the judge should have suppressed his statements to police after he was read his Miranda Rights.
The murders happened back in September of 2009.  Reports indicate the bodies were buried in a shallow grave near Ogden.
Aguirre's hearing is set for Tuesday at the Kansas Judicial Center.