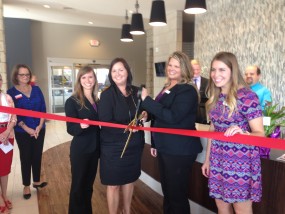 After a month of operation, the Bluemont Hotel held their ribbon-cutting ceremony Wednesday among Manhattan city commissioners.
The Bluemont hosted a tour of their hotel to visitors, which Director of Sales and Events Jenn Alley says displays the culture of Manhattan itself.
"The Bluemont is different because it's a true boutique hotel. It's not branded, so it's unique to Manhattan. Everything from the limestone inside to the artwork in the rooms… everything [reflects]Manhattan and K-State."
The Bluemont is independently run, and Alley said there's a big difference between working for a larger corporate entity and being able to run the hotel on their own. General Manager Jennifer Fritchen says the service the Bluemont provides cuts away from the normal hotel experience, which sets them apart from others. Fritchen has been a part of the Manhattan community for 20 years, and during that time she's seen the potential for a hotel in the location the Bluemont is in now.
"There's always been a talk about a hotel near Aggieville and near campus… to kind of give some more variety to the center of town. When this all came about, there were a lot of people excited. Since [the Bluemont's opening], people have seemed very pleased."
Since the Bluemont's opening in September, the hotel has partnered with K-State to provide guests a place to stay and conference space for university activities, with the convenience of no-strings-attached parking for those guests with easy access to both campus and Aggieville.