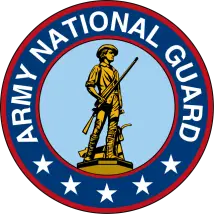 National Guard soldiers from across the state came together Sunday to Frank Anneberg Park in Manhattan for the activation ceremony of the 130th Field Artillery Brigade.
The 130th has been activated and deactivated twice already, with the last activation having supported the war on terror in the Middle East until 2007. One non-commissioned officer was a part of the 130th at the beginning of his Army National Guard career when the 130th was last activated, and he's now in a leadership position. Sergeant First Class Jason Ekeland of the Salute Battery, C Battery, 1/161st Field Artillery his role with the 130th.
"When I first joined the National Guard, I was a part of this artillery brigade, and it was deactivated many years ago. It's nice to see it come back to life, so we can be a part of it's history again."
The activation of the 130th means more readiness in the Riley County area, as well as much of the state of Kansas in regards to logistics. The Kansas Adjutant General, Major General Lee Tafanelli described the activation of this artillery brigade as major progress for the Kansas National Guard.
"[The activation of the 13oth] provides great capability for domestic support to our civil authorities in the event that we need them here at home. But more importantly, it's the requirements and the capability that they bring to be able to win our nation's wars."
Gen. Tafanelli credited the selection of the state of Kansas as the new home for the 130th to the hard work of the soldiers of the Kansas National Guard.