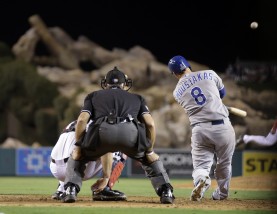 ANAHEIM, Calif. — When Mike Moustakas smacked a high fly into right field in the 11th inning, the Kansas City Royals' No. 9 hitter had no idea whether it had enough juice to get out of the Big A.
Moustakas homered leading off the 11th, and the Royals kept rolling in their first postseason in 29 years with a 3-2 victory over the Los Angeles Angels in their AL Division Series opener Thursday night.
Kansas City had managed just two baserunners since the fifth inning when Moustakas hit the first extra-inning homer in postseason history for the Royals, a high shot off Fernando Salas that barely reached the elevated right-field stands at Angel Stadium.
Alcides Escobar had an early RBI double for the Royals, and their bullpen repeatedly escaped trouble in Kansas City's first game since that spectacular, 12-inning comeback victory over Oakland in the wild-card playoff Tuesday night at Kauffman Stadium.
Chris Iannetta and David Freese homered early in the Angels' first playoff game since 2009, but the majors' most productive offense stranded eight runners in the five innings before Greg Holland's perfect 11th.
Game 2 in the best-of-five series is Friday night at the Big A, with Angels 16-game winner Matt Shoemaker taking on fellow rookie Yordano Ventura.