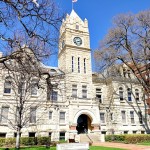 An Ogden man no longer faces an attempted murder charge, but Johnny Cossey, 38, now is set for a November third arraignment on aggravated battery and robbery charges.
A preliminary hearing was held for Cossey in Riley County District court Tuesday morning, but prior to that the state had amended the complaint, with the charge of attempted first degree murder amended to aggravated battery. Cossey's charges now include two counts of aggravated robbery, aggravated battery, and aggravated burglary. Cossey was bound over following the preliminary hearing.
The Ogden man was arrested by Riley County Police this past July,along with Timothy Holmes, 43, following an incident in the 100 block of 10th Street in Ogden, which involved a stabbing.  Holmes' jury trial is set for November 12th.
###
A Westmoreland man waived his preliminary hearing, which was to have been held Tuesday in Riley County District Court.
Nathan Woodyard's arraignment is set for November 10th on attempted robbery and other charges. Woodyard was arrested in May after he was involved in a motor vehicle collision near the 2800 block of Pillsbury Drive. The vehicle Woodyard was driving had been reported as stolen–and he then reportedly attempted to steal another vehicle from the scene and battered two people in the process. Neither victim had life-threatening injuries.
Woodyard then ran from the scene but was ultimately arrested not far from the accident.