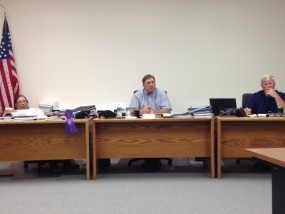 The Flint Rock Bridge replacement project in Pottawatomie County will be handled by a local construction firm, following Pottawatomie County action Monday morning. Pottawatomie County Commission Chair Stan Hartwich tells KMAN that was at the advice of FEMA,  the low bid from Ebert Construction of Wamego was approved  at $650,948.74.
Commissioners also heard about work on Excel Road, from Public Works Director Leu Lowery. Lowery said about 85 percent of the design work is done and he hopes to have the sewer line installed this fall.
County Noxious Weed Director Tim Eisenbarth told commissioners chemical sales continue, with spraying going on, and the county's  responsible for right-of-ways. Eisenbarth also mentioned recycling is also working out well, with 21,000 pounds of co-mingle items going to Howie's last month.
Commissioners Tuesday will be attending a consult meeting with Kansas Department of Transportation officials regarding proposed work in the Green Valley area,  for the Marlatt and Junietta connection.