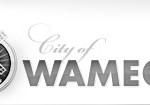 Property owners came out in force at the Wamego City Commission Public Forum Tuesday. The meeting was scheduled to further discuss the Contractor Licensing Code Ordinance passed earlier this year requiring licensed contractors to do any work on property that requires a permit and that is not the owner's primary residence, such as a property purchased for resale or a rental. The audience consisted of owners of rental properties and building contractors.
Contractor Pat Weixelman said they have a system that works very well right now, with no problems the last 20-plus years in the construction business and citing an excellent working relationship with Building Official Mac Campbell. He later said he felt the ordinance was a slap in the face for someone who's been doing their own work for years.
Contractor Richie Chrest said the adoption of the Ordinance had the appearance of a conflict of interest because the Construction Board of Appeals membership requires licensed professional in a specific discipline, which reviewed the Code updates and recommended the change to the City Commissioners. He took issue with Commissioner Cliff Baughman, who works for a licensed professional, and was allowed to vote on the Code change. Commissioner Bill Ditto said the Commission has to have the trust of the public, and the perception on how decisions are made. He added not every decision made by the Commission is going to be loved by everyone.