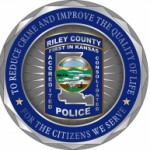 A domestic incident involving a suspect with a knife caused Riley County police to respond to a residence in the south eastern portion of Manhattan on Tuesday at approximately 1:50 PM. Police found probable cause that Brendan Silva, 17, of Manhattan should be detained for the offense of aggravated assault and battery. A bond amount was not specified but at last report Silva was in custody.
###
And Cody Jones, 18, of Leonardville was arrested Tuesday at about 9:00 AM on a warrant for juvenile probation violation. There was "no bond" set on this warrant and Jones was arrested while at the Riley County Police Department. He is no longer confined.
While not known if it's connected, KMAN's last report of Jones was on July 30th, at which times he was stopped from a traffic infraction and while stopped exited the vehicle and fled the area on foot. A report of interference with law enforcement was filed at that time.