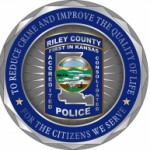 Riley County Police reported Monday the arrest Jamal Grant, 23, of Colorado Springs Saturday afternoon for rape and aggravated sexual battery. Grant's arrest reportedly stemmed from a June 15th, 2012 case in Riley County. Grant's bond was set at $50,000.
###
Riley County Police are investigating a rape case reported Sunday morning at 10:30.  A 20-year-old female told police she was a victim of a rape that had occurred during the early morning hours within the City of Manhattan. The rape investigation is on-going at this time.
###
A news release regarding an aggravated kidnapping/robbery was also issued Monday and is listed as a separate story on this web page.