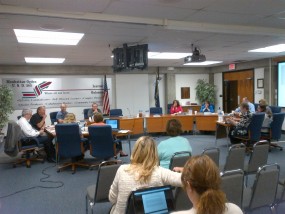 Manhattan Ogden USD 383 school board members focused on two main topics during their fall retreat:  district preschool programs and district adult education programs.  The retreat was held Wednesday evening at 5:15 p.m. at the Robinson Education Center.
Director of Early Learning Programs, Elisabeth Nelson presented the preschool programs item, and began by sharing a quick video.  The video showcased the teachers and the preschoolers within the district.  Nelson said the video is on Youtube, but at this point it is difficult to find, so she hopes to make it easier to view.
Board members viewed details about inclusion classrooms, grant classrooms, and current preschool slots.  There are nine total preschool inclusion classrooms and most of them house around 24 students (12 in the morning and 12 in the afternoon).  Grant classrooms involve full day preschool opportunities, but there are several items of "at-risk criteria" students must meet.  All four of these classrooms are at College Hill Preschool.
One of Nelson's focal points during her presentation was the Kansas Preschool Program Grant, as there have been several changes in the state.  A KPP team was formed to identify strengths and weaknesses in core curriculum, as well as several other functions.
Transportation is one of the issues many families face as far as getting kids to and from preschools.  Board Member, Darrell Edie asked Nelson if there are ways to transport kids with buses.  Nelson said the district did purchase the necessary harnesses to legally transport preschoolers for preschool field trips.  She added, these harnesses can be put in regular buses, but transportation for all preschoolers would be time consuming and expensive.
"I could not be more disappointed with leadership in Topeka", commented Board Member, Aaron Estabrook, as far as education.  He said he wished the legislators would be more supportive of education, so it would make Nelson's, and the other teachers, jobs easier.
Board members discussed College Hill Preschool, as most seemed to agree the building needs work, but the location of the facility is great.  Board Member, Marcia Rozell said she "didn't want to keep putting band-aids on the property" when it probably needs to be completely re-done.  Rozell also commented, it's important to prepare for future growth.
Board Member, Dave Colburn, on the other hand, did not agree that College Hill would be the best option for a preschool hub.  He said there would not be enough space to create a sufficient building and have enough parking.
Executive Director of Teaching and Learning, Carol Adams and Adult Learning Center Director, Vickie Fix-Turkowski presented the district adult education programs item.  They shared background about the program and the future changes.  Fix-Turkowski said additional partnerships, like they have with Manhattan Area Technical College, will be hopefully implemented in the future.  The board also looked at legislative changes for adult education and workforce preparation.  She said the program could be in jeopardy of losing $150,000 if they can't maintain their current grant, which will take some additional work.
Board members also discussed the facility, and the possibility of having to move it in June of 2016.  College Hill came up again, as Board President, Leah Fliter mentioned the option of moving adult learning to College Hill-then moving the preschool somewhere else.
Two retreats are held every year:  a fall retreat and a spring retreat.  Fliter said the retreats allow the board to discuss a few topics in greater detail, without the pressure of having to approve anything.