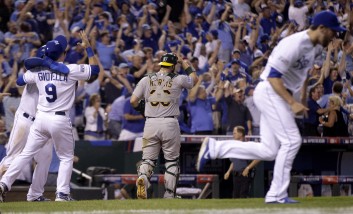 KANSAS CITY, Mo. — Rain had started to fall at Kauffman Stadium as the echoing roars finally faded into the night. Eric Hosmer popped out of the dugout one last time, looked to the sky and let it soak in.
It had been 29 years since the Royals played a postseason game — three decades spent mostly as a laughingstock. But on Tuesday night, already drenched in victory champagne, the young first baseman felt as if the whole world had watched their coming-out party.
Salvador Perez singled home the winning run with two outs in the 12th inning, capping two late comebacks that gave Kansas City a thrilling 9-8 victory over the Oakland Athletics in the American League wild-card game.
Quite a start to October baseball — even if this one appeared to be over with plenty of time to spare in September. But in a back-and-forth epic that lasted 4 hours, 45 minutes, the A's lost their seventh straight winner-take-all playoff game since 2000.
Making their first postseason appearance since winning the 1985 World Series, the Royals are sticking around. They'll open their best-of-five Division Series on the road Thursday night against the AL West champion Los Angeles Angels.
After falling behind by four runs, the Royals raced back with their speed on the bases — they led the majors with 153 steals this season. Kansas City swiped seven in this one to tie a postseason record previously shared by the 1907 Chicago Cubs and 1975 Cincinnati Reds, according to STATS.
The A's raced out to a 7-3 lead by the sixth inning, but the Royals countered with three runs in the eighth. Nori Aoki's sacrifice fly off Sean Doolittle in the ninth forced extra innings.
Kansas City squandered chances in the next couple of innings, as midnight came and went on the East Coast and the tension continued to build. Rookie left-hander Brandon Finnegan, just drafted in June, pitched two scoreless innings but walked Josh Reddick to start in the 12th.
Pinch-hitter Alberto Callaspo delivered an RBI single off Jason Frasor to put the A's ahead 8-7, but Hosmer hit a drive high off the left-center wall against Dan Otero for a leadoff triple in the bottom half, and Colon drove him in with a bouncer that barely traveled 50 feet.
That set the stage for Perez, who lined a pitch from Jason Hammel down the third-base line.
The Royals will open their best-of-five Division Series on the road Thursday night against the AL West champion Los Angeles Angels.