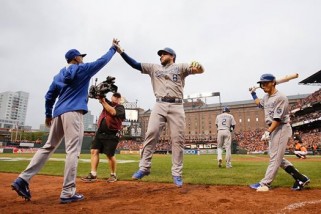 BALTIMORE (AP) — The Kansas City Royals prefer to simply savor their exceptional performance at Camden Yards rather than ponder the historical ramifications of where it's gotten them.
Alcides Escobar doubled in the go-ahead run in the ninth inning, Mike Moustakas extended his home run-binge and Kansas City remained perfect in the playoffs, beating the Baltimore Orioles 6-4 Saturday for a 2-0 lead in the AL Championship Series.
Now, the Royals head back to Kansas City with the knowledge that no team has ever lost a best-of-seven LCS after winning the first two games on the road.
"We don't want to be the first team to do that," designated hitter Billy Butler said. "That's all I get from that."
Lorenzo Cain had four hits, scored twice and drove in a run for the wild-card Royals, who are 6-0 in the playoffs this year, including 4-0 on the road. The Orioles hadn't lost two in a row in Baltimore since June 28-29, but Kansas City found a way to quiet the towel-waving, screaming crowds.
"The atmosphere here is great. It didn't affect us," Butler said. "Now we'll go home and see if they can play in our atmosphere."
Moustakas homered for the fourth time in five games as the Royals won their ninth straight in the postseason, a string dating to the 1985 World Series.
"To come in here and win two games against a great team like that, it's huge for us," Moustakas said. "A lot of confidence going back home."
Game 3 is Monday at Kauffman Stadium. Former Oriole Jeremy Guthrie will start for the Royals against either Wei-Yin Chen or Miguel Gonzalez.
"We know they're a good team," Royals closer Greg Holland said after earning his second save of the series. "You can't really get too high on yourself."
The Orioles and manager Buck Showalter's team now must buck history to get Baltimore its first pennant since 1983.
"If one team can do it, it's us," slugger Nelson Cruz said.
"The series ain't over," insisted Adam Jones, who hit his first playoff home run. "If you guys (are) thinking it's over, why are we going to show up on Monday?"
After squeezing out an 8-6 win in 10 innings on Friday night, the Royals again took apart the Baltimore bullpen with a late uprising.
With the score tied at 4 in the ninth, Omar Infante beat out an infield roller off Darren O'Day, the losing pitcher for the second straight day.
Zach Britton entered, and Moustakas laid down a bunt that moved pinch-runner Terrance Gore to second. Escobar then sliced an opposite-field grounder inside first base to bring home Gore.
Cain added an RBI single to become the only Royals player other than Hall of Famer George Brett to have a four-hit game in the postseason.
For the second time in two games, Wade Davis earned the win and Holland got three outs for the save. Holland struck out Steve Pearce with a runner on to end it.
"If you could go home 1-1, you're going to be really, really happy," manager Ned Yost said. "If you can go home 2-0, that's as good as it gets."
Baltimore's Bud Norris allowed four runs and nine hits in 4 1/3 innings. Royals rookie Yordano Ventura left in the sixth with tightness in his right shoulder after giving up four runs and six hits.
"He's fine," Yost said. "I don't anticipate him missing this next start."
Moustakas, the No. 9 hitter, hit a solo homer that put Kansas City up 4-3 in the fourth. Although he homered only once in the last 49 games of the regular season, Moustakas now stands tied with Willie Aikens for most homers by a Royals player in a single postseason.
"Getting good pitches to hit and not missing them," he said. "That's pretty much it."